Thank you to our Corporate Sponsors!
---
---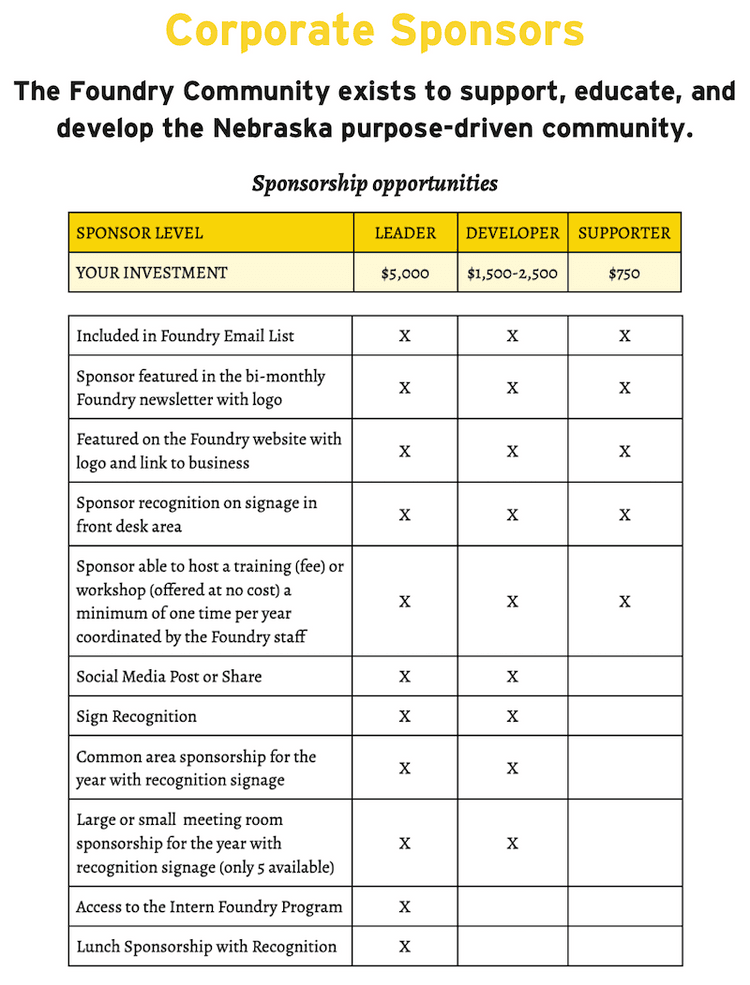 Corporate Sponsorship FAQ's:
Why would I become a Foundry Community Corporate Sponsor?
The Foundry Community houses over 30 nonprofit or purpose-driven organizations in our building located in the heart of downtown Lincoln, just south of the University of Nebraska-Lincoln city campus. If your organization serves nonprofits or purpose-driven organizations in Lincoln or the state, this is a great way to show direct support for these groups and become more visible with them at the same time. In addition to housing office space for organizations, the greater Foundry community serves over 100 nonprofit and purpose-driven individuals and organizations throughout the year with annual memberships, the Intern Foundry (IF) program, conference room rentals, and events throughout the year in Lincoln. The Foundry Corporate Sponsorship Program provides increased visibility and connection for interested parties.
LEVELS OF SPONSORSHIP
Leader - $5,000
You are committed to supporting and developing purpose in our community, but want to go a step beyond in three concrete ways: 1 by sponsoring one monthly community impact lunch for 50 individuals to attend and focus on a topic of interest and impact in Lincoln; 2) by naming a conference room or public space at the Foundry for 1-year (renewal possible) for maximum branding; and 3) by mentoring high achieving UNL students who are a part of the Intern Foundry (F) program.  You understand that sponsoring and/or hosting an intern, naming a conference room at the Foundry to ensure top notch technology is available, and sponsoring a community impact lunch; all help the purpose-driven eco-system move forward and brand your organization with purpose to the over 200 organizations using Foundry space per year.  The Leader level allows you to advocate your values at the highest level, and you're committed to the impact that this contribution will make.
Developer - $1,500-2,500
You are committed to action and want your organization's name associated with purpose.  You believe in the goals of the Foundry and want to be a concrete part of making the community – focused on developing talent, capacity, education, and organizational culture, strong. Branding your name on a well-traveled common area of the Foundry gives you access to sharing your value for purpose and you are motivated to do this.   
Supporter - $750
You are an active supporter of the community and you want to be a part of making the purpose-driven community in Lincoln strong. You understand that the value proposition of the Foundry Community – focused on support, education, and development of Lincoln nonprofits and purpose driven organizations is an important part. 
How do I sign up my organization for the Foundry's Corporate Sponsorship Program?
Fill out the form below and one of our Foundry staff members will be in touch with you very soon. We look forward to working with you!