Lincoln Arts Council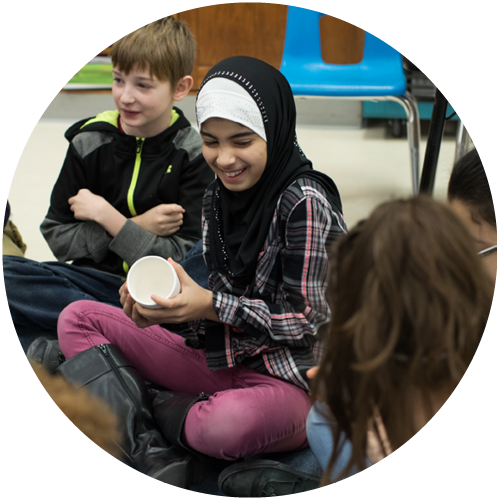 by Hana Muslic
When Randy Hawthorne, our executive director, began developing the idea of Nonprofit Hub back in 2014, one of the first nonprofits he envisioned living in our coworking space was the Lincoln Arts Council (LAC). In October of last year, that vision became a reality when the organization moved into our building at 211 N. 14th St.
In just three short months, LAC has already found themselves completely at home. The organization is gearing up to celebrate its 50th anniversary this year and there's no shortage of work to be done. I sat down with LAC's executive director, Deb Weber, and development director Troy Gagner to chat about what the nonprofit's purpose is, how they fulfill it and what they hope for the future. And let me tell you, these people are making waves.
Four years ago, LAC adopted a new mission: "Championing the arts, connecting people, changing lives." Weber said that this means bringing positive arts experiences to the broadest community possible.
"We work to highlight the arts, create awareness for the arts and the goal is to build relationships between people and connect them through the arts," she said.
LAC covers a huge spectrum in who they connect—children, medical patients, incarcerated people, artists, collectors and more. And "art," Gagner said, encompasses everything from drawing and painting to music and theater.
Gagner also said that in the last 10 years, LAC has shifted to a more program-based approach. They found that by implementing programs within an agency, results are more tangible.
"Our belief is that every single person, no matter who they are, needs to have access to arts opportunities," he said. "We want to work with as many populations within our community as possible and help them share what they can bring to Lincoln. A lot of them typically don't have that opportunity.
One of LAC's most successful programs is Art Makes Me SmArt, which brings art experiences to under-resourced children in the community. Since 2008, the program has served over 1,000 students in 10 different schools, providing intellectual and emotional outlets for children that might otherwise go without them.
LAC hopes that programs like this can soon be implemented in agencies that service mental health and trauma patients, immigrants and refugees, the elderly—anyone who could benefit from a creative outlet.
"Arts help you figure out where you fit in the world," Weber said. "Any time you can express hopes, dreams, disappointments, who you are...it's a benefit to the community. It creates more well-rounded people."
LAC found that art also brings an economic benefit to the community when they partnered with Americans for the Arts in conducting a study of the impact nonprofit arts and cultural organizations have in Lincoln. According to the study, arts generated $99 million in economic activity in the city—evidence that the arts and culture sector is a significant industry here.
"It's amazingly vibrant [in Lincoln]," Weber said. "The arts community is very interested in working together with other industries to help create new opportunities."
We're happy to have LAC in our space here at Nonprofit Hub, and by the sounds of it, they're happy to be here, too.
"Just being with other people who strive every day to create a better community is inspiring," Weber said. "It's exactly what the Arts Council needed to do at this point, come downtown and be with a group of like-minded people."
To learn more about the Lincoln Arts Council and the ways they're promoting the arts, check out their website at artscene.org.