TEDx: Giving Lincolnites a Voice and a Stage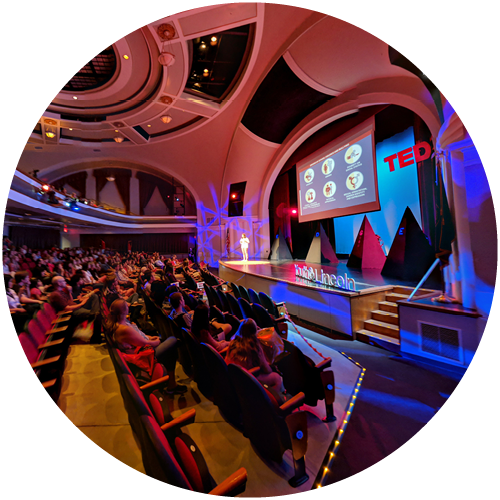 by Hannah Trull
Over the last decade, TEDx Lincoln's annual event has moved from a small meeting room in the NET building to the main stage at the Lied Center, but its mission has remained the same: "To provide a multitude of opportunities in Nebraska for people to share ideas."
Under the umbrella of TED, a well-known, international nonprofit that allows inspirational speakers to hold short talks and then share them online, TEDx organizations are smaller branches that aim to make speakers and topics more relevant to individual communities. Unlike the head organization, all TEDx branches are organized and run completely by volunteers.
"TEDx Lincoln is a big part of keeping the Lincoln community vibrant and looking for new ideas," executive director Ryan Dobesh said. "There are a lot of people who have good ideas but may not have the platform to share them, so giving people the opportunity to come together as a group and meet like-minded people like this is really valuable."
As the technical director at NET, Dobesh first got involved with TEDx Lincoln by helping produce the events that were broadcasted in their studio back in 2011. As the organization grew, so did his responsibilities—he directed the webcasts for a few years before becoming the organization's executive director in 2018.
While Dobesh's workload varies greatly depending on the time of year, this month is by far his busiest. He said he's currently working closely with Shaun Harner, TEDx Lincoln's curator, to coordinate their main speaking event on June 13.
Dobesh works with the Lied Center to figure out the logistical aspects of the event, like broadcast partners, fundraising and setup, and Harner is more focused on selecting and training speakers.
The speaker selection process begins six to eight months before the event. Harner, Dobesh and their committee start by narrowing the more than 75 applications they receive each year down to just five.
"We ask them, 'What's your big idea? What do you have that's worth sharing?'" Dobesh said. "We're looking for stuff we haven't heard before."
Once they've chosen their speakers, four volunteers—who are all either TED speakers themselves or speech coaches at local high schools and colleges—invest months of personalized training into each of them. They go through three rounds: the first is intended to get all the ideas out on the table, then the speech is "distilled down to the essence of what they want to speak about," Dobesh said. The third round of training is all about memorization and getting ready for presentation.
This same rigorous process is applied to the TEDx youth speakers who present at Lincoln High School every other year. The youth program is almost entirely run by high school and college-aged speakers, producers and chairs.
"They organize it, handle the webcast, build the stage, all of it. As much as we can, we want students involved in every part of it," Dobesh said.
Whether the speaker is 18 or 80, he works to ensure that each one of them has something to say that directly affects the people of Lincoln or Nebraska.
"The big thing for us for our events is making sure that all the speakers have a connection to Nebraska," Dobesh said. "There are a lot of amazing ideas and amazing people here, and we want to make sure that we're able to highlight them."
This year's main event, called "Disruption," includes speakers like Preeta D. Bansal, a UNL and Harvard Law grad, former senior policy advisor at the White House and MIT lecturer who will speak about reclaiming human wisdom and authentic power in the age of artificial intelligence. You'll also hear from a physicist, a wildlife expert, a professor and a designer, all of whom hail from Nebraska and have been nationally recognized for their work.
To get your tickets to Disruption, go to liedcenter.org or tedxlincoln.com.