Keeping Lincoln Beautiful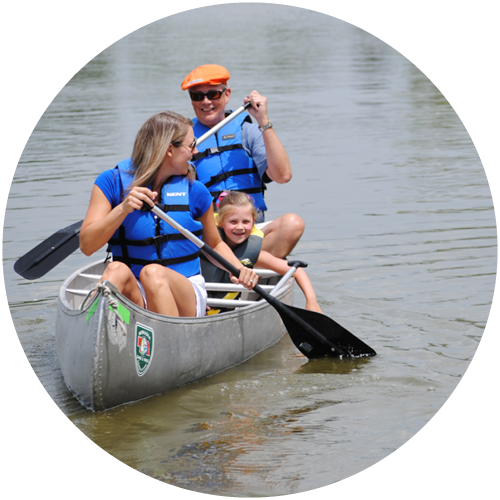 by Hannah Trull
Even if you're a native Lincolnite, you probably wouldn't guess that Lincoln is home to 131 parks, 85 playgrounds, nine pools, six recreation centers, five golf courses, two spraygrounds and 134 miles of public trails, making it one of the top 10 cities for runners in the nation.
This is all thanks to Lincoln Parks and Recreation. On top of creating and maintaining these public outdoor amenities, they're in charge of everything from free community outreach events, to preserving the largest stretch of native prairie in North America, to preventing a deadly beetle from wiping out Lincoln's ash tree population.
"This job is the perfect combination of the nonprofit work I love, the city that I love and the mission of getting people outside and active and building community," said Maggie Stuckey, executive director of the Lincoln Parks Foundation (LPF).
The Lincoln Parks Foundation is a private nonprofit organization that works in partnership with Lincoln Parks and Recreation to provide funding for projects that add to Lincoln's vibrant culture beyond what tax dollars can cover.
They're supported by dozens of interest groups, from bikers to pickleball players, which ensures that the city has something for everyone. The Sunken Gardens, Union Plaza and Tower Square are just a few of the unique places brought to you by LPF.
Construction and renovation projects like these are all part of a comprehensive 10-year plan created by the city. After department staff identify the community's wants and needs, their marketing specialist Kat Scholl works with Stuckey to get feedback from the public on how to use city funds.
"The plan covers everything from redoing a pump at a pool to renovating Centennial Mall," Scholl said. "And we push surveys out to get a feel for how the community prioritizes these things."
One project Stuckey, Scholl and the rest of the team are working on is the Nature Center at Pioneers Park, a preservation area that maintains over 600 acres of native prairie grass along with herds of bison and elk. It's also home to multiple public trails, an herb garden and a preschool.
Its nearby Prairie Corridor on Hanes Branch, which will begin at the Nature Center and extend west to Conestoga Lake, then south to the Spring Creek Prairie Audubon Center, is in the process of a major 10-year restoration process. Their goal is to expand the 5,300 acres of natural grass they've already preserved to 7,800 in the next 10 years, which would make it the longest stretch of native prairie in North America.
They're also trying to prevent the Emerald Ash Borer beetle from wiping out the more than 12,000 ash trees in Lincoln. The diseased bug, which has moved across the nation and poisoned millions of trees along the way, was finally discovered in Nebraska about a month ago.
"We've been very proactive in trying to remove them before it spreads too much, because there's nothing we can do to stop this bug," Stuckey said. "The city's spending a ton of money to get these trees down, because all it takes is a gust of wind before they fall on your car or home—it's super dangerous."
Parks and Recreation deals with its fair share of serious issues like this, but a big part of their job is also making the city a fun place to live. Their two umbrella campaigns, "Play in the Park" and "Party in the Park," are both intended to "get people out and about and to the parks at no cost," Scholl said.
Play in the Park is a wellness campaign that includes activities like water Jazzercise, canoeing classes, yoga and more. Party in the Park is all about family fun. The Party on the Plaza event at Union Plaza on May 19 will have activities like face painting, arts and crafts and duck races. And they'll be hosting drive-in style family movie nights at the park this summer with their new big-screen projector.
They also recently announced plans for a new park in downtown Lincoln on 7th and N Streets, in keeping with their goal of having a park within one mile of every resident.
The existence of both a department and a foundation working together for the good of the city makes Lincoln unique, and makes it possible for so many construction and renovation concepts like this to become reality.
"We feel lucky because when a lot of communities have ideas for what they want to do, they often struggle to find the funding to do it," Stuckey said. "Lincoln is positioned to have this partner who's always there and ready and willing to help make projects happen."