After the Flood: How Nebraskans Rally in Times of Need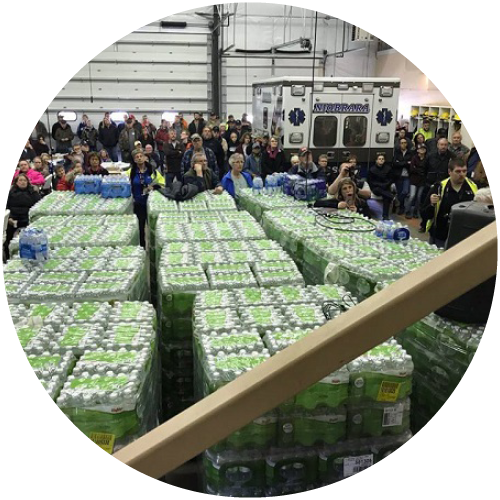 by Spencer Creal
It's been nearly two months since the apex of some of the worst flooding Nebraska has ever seen. A state of emergency was declared in most of the state's counties as overflowing rivers left entire towns underwater. According to the latest reports from the Associated Press, the cost of the damages is approaching $1.5 billion.
Media coverage of the destruction was alarming, but seeing firsthand the miles of closed highways and acres of drowned prairie—much of which is still underwater—invited a new sense of helplessness. But in Nebraska you never feel helpless for long. In true Cornhusker fashion, citizens of our state rallied to help the communities affected by these floods through dozens of statewide efforts. Here are just a few ways Nebraskans supported each other in this time of need.
Beer for good
Just days after the governor claimed a state of emergency for Nebraska, 26 breweries across the state agreed to brew a special beer, called Nebraska Strong Red Ale, whose sales would benefit flood victims and communities. The Nebraska Craft Brewers Guild announced that 100% of the proceeds from the brew would go to the Nebraska Farm Bureau Foundation and other charities focused on flood relief. Many individual breweries across the state went a step further by creating additional brews and launching campaigns to help members of their own communities.
Cornhuskers care
There isn't any doubt that Nebraskans support the Huskers, but it's comforting to know that the Huskers support Nebraska, too. Both the Nebraska men's basketball and football teams collected donations from fans during the March 20 NIT game against Butler and the Red-White Spring Game, ultimately raising more than $160,000.
Additionally, two former Husker football players, Spencer Long and Jeremiah Sirles, both Nebraska natives, hosted a dinner fundraiser for flood relief. The dinner also served as a way to honor first responders and help victims through the difficult process of rebuilding. Long and Sirles are teammates for the Buffalo Bills, over 1,000 miles away, and still they felt called upon to help the place they call home.
The athletic department also encouraged the purchase of "One State One Heartbeat" shirts to benefit flood relief efforts.
Local (and not so local) celebrities
Several celebrities used their platforms to help flood relief in Nebraska and surrounding areas, whether they have roots in the state or not. Justin Timberlake promised to donate to flood relief ahead of his Omaha concert at the CHI Health Center, and country-pop duo Dan + Shay made a similar pledge.
Larry the Cable Guy, comedian, actor and Nebraska native (he's from Pawnee City and now resides near Lincoln) donated all of his proceeds from a Lincoln show at Pinnacle Bank Arena to charities helping flood victims.
As we move forward, it's important not to let these floods stay stuck in the March calendar. The rebuilding process is only just beginning, and it will be long and piecemeal for most communities. At this time, flood relief charities are asking for monetary donations, rather than material ones, to ensure that relief is provided efficiently and to the communities that need it most.
The floods have been devastating in every sense of the word. But Nebraska is special, and if it's any consolation, there aren't many places with people like ours to be there for each other when times are tough. For that, we should be grateful.