The Kindler Hotel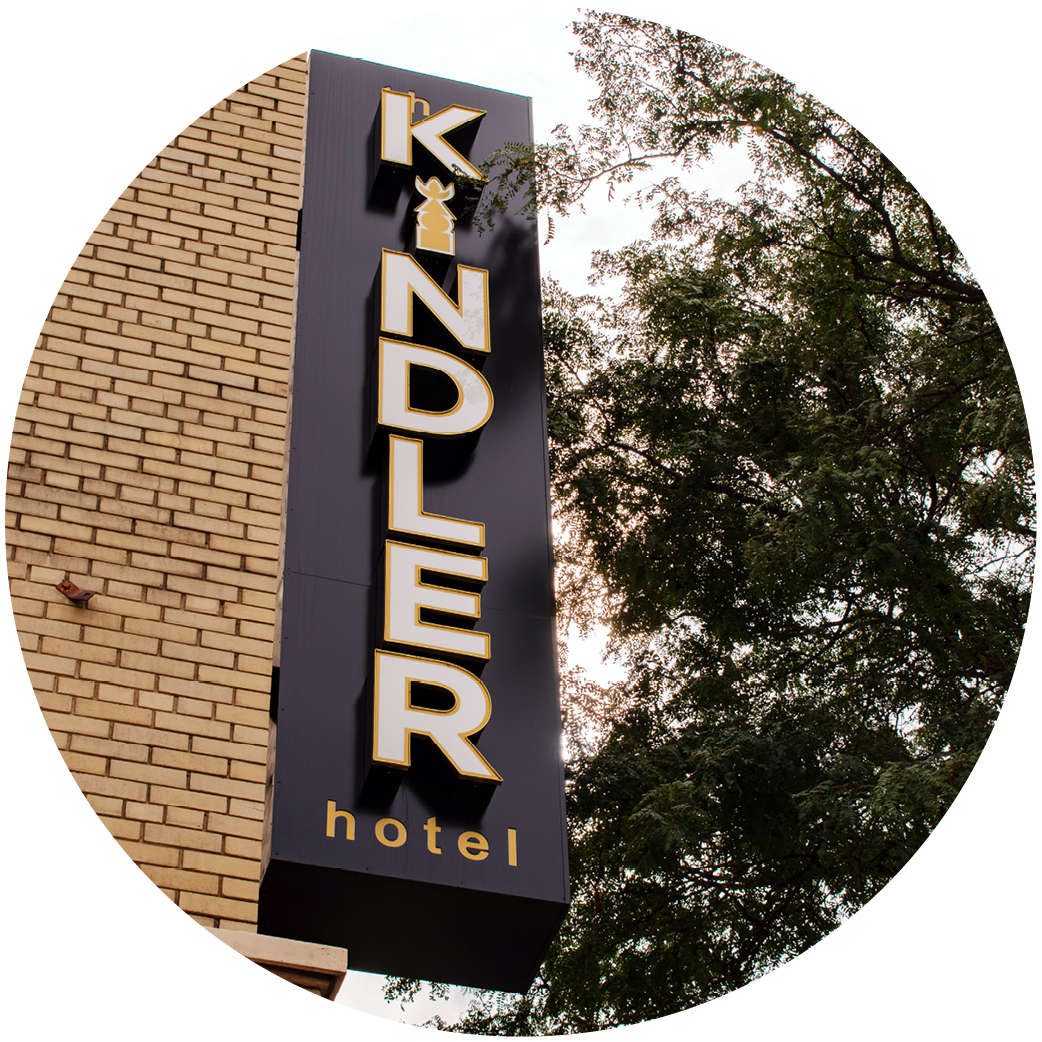 by Olivia Layne
You may have noticed the downtown construction scene has been a bit busier lately. The fenced off area on the corner of 11th and "P" Street kept us wondering what new thing was being added to the ever-changing landscape of downtown Lincoln. As soon as the Kindler sign adorned the side of the building, people knew that Lincoln was in for something special.
The story behind the hotel starts with a man named Ken Kindler. Ken was an artist — a metal sculptor — who lived here in Lincoln, and had a daughter named Brook. Ken passed away in 2014. But, his legacy was far from over. His daughter, Brook, and her husband, Nick, decided they wanted to honor his memory. Although they don't live in Lincoln, Nick and Brook Castaneda founded this hotel in memory of Brook's father, calling it The Kindler Hotel. Keeping with their commitment to his legacy, Ken Kindler's art will be showcased around 
the hotel.
But, the origin story isn't the only special thing about The Kindler. Their commitment to legacy and luxury is at the heart of their mission. Part of the building has been in downtown Lincoln for over 100 years and it used to be the Men's Chamber of Commerce. They preserved the history of the building and restored it to become the ballroom for the hotel.
The art deco style of the 49-room property is sure to catch your eye while strolling around downtown. As the first boutique hotel property in Lincoln, they promise a level of hospitality to keep you sheltered from the bustlings of everyday life and provide that bit of quiet you might be craving.
Since their nearly two-year construction project is coming to a close soon, the Kindler staff will move out of The Foundry and into their own offices in the hotel. They opened in August, just in time to greet the Husker fans who came to Lincoln.
"I'm going to be sad to leave," Michelle Lee Venter said. "I love everyone here. I love people. Everybody has a story to tell. And I've made some really, really close friends here and they'll remain friends."
Michelle, the Director of Sales for The Kindler Hotel shared how she'll miss The Foundry community and everything it brings to Lincoln. She wanted to come here in the first place to be among people who care.
"I've known Randy for a very long time," Venter said. "I wanted, of course, to be close to the property, but I know Randy as a person that truly cares for people, cares for the community, and tries to give something back to Lincoln. I admire Randy. And to be amongst a group of really ambitious, nonprofit organizations, I think, is inspiring."
Although the goodbye is bittersweet, Venter made sure to mention that her connections with The Foundry and Lincoln's give-back community are far from over. 
"I'm working out an agreement because we don't have a large business center. So I'll send all my clientele here that need a business space," Venter said. "But one thing that we are doing as a hotel, from a sustainable standpoint, is every member of the executive committee and some of the other full-time staff will be involved in some type of charitable organization. We'll all be involved in the community in one way, shape, or form."
Through years of preparation, The Kindler Hotel is nearly ready to open its doors. From figuring out how to build off of and preserve a historic building, to creating mouth-watering menus with the help of Olympic ice skater, Brian Boitano, and creating an experience that Lincoln has never seen before, the staff at The Kindler are ready to share their hard work with the people of Lincoln.
"I'm just excited to bring something of this caliber to the city of Lincoln because we've never seen it before," Venter said. "We're all about the guests and hospitality. We have a beautiful product to offer and it is just so wonderful that the owners invested this much in the midwest."