Leadership Lincoln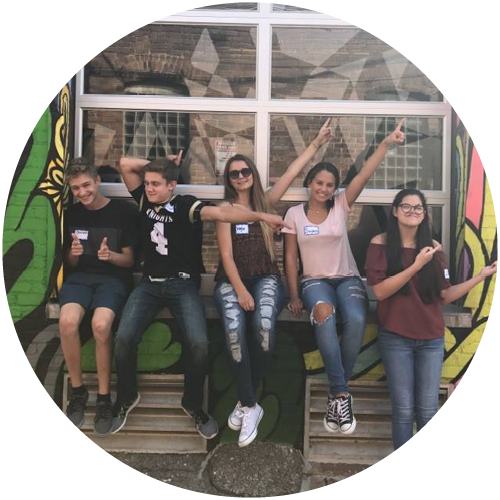 by Spencer Creal
I've worked with dozens of organizations focused on developing leadership, and most, if not all, hold the same basic idea of what leadership development looks like. They push for building personal leadership skills—that is, honing in on an individual's abilities as a leader, and further improving them. There's nothing wrong with this approach; there's a reason why leadership development organizations around the globe employ this same strategy. 
Leadership Lincoln is different. In addition to teaching individuals how to be leaders, Leadership Lincoln serves as a platform for people to engage with their community through a lens of leadership. And "engage" is only one of the organization's key tenets. 
"At our core we're a community education organization. We seek to engage members of the community, connect them to one another, and get them to serve," said Mick Hale, Leadership Lincoln's Executive Director.
Engage. Connect. Serve. Those are the pillars of Leadership Lincoln's mission, and, if you ask me, they've been doing a pretty stellar job of carrying it out. 
Since 1985, 3,300 Lincolnites have gone through one of Leadership Lincoln's four programs—three for adults, and one for high school sophomores. Not surprisingly, graduates of these programs permeate just about every imaginable sector of Lincoln.
"We have graduates on the city council; we have graduates on the school board; we have graduates in the state legislature; we have graduates who are business leaders; we have graduates on the university's board of regents. We have graduates everywhere," said Randy Bretz, Leadership Lincoln's Communications Coordinator.
Leadership Lincoln's founders wanted more people at Lincoln's decision-making table, so they decided to do something about it. 
"Back in the 60s, 70s, and even 80s, Lincoln's business and community leaders realized the city needed more people involved in making Lincoln a great place to live," Hale said. "Leadership Lincoln helped make sure there were more people at the table, and that the people in those seats worked to help make Lincoln the vibrant city that it is."
Laura Uridil, Leadership Lincoln's Program Director, praised the organization's volunteers who give so much of their time to help make the program successful.
"Graduates of our programs and other community leaders are generous with their time as they help plan and produce each program for our classes," she said. "We have business leaders, leaders of nonprofit organizations, state senators and city council members who are graduates of Leadership Lincoln organizing, and even speaking at our programs." 
The organization is successful because so many of Lincoln's leaders offer their time to help teach classes for each of Leadership Lincoln's programs. They educate participants on topics ranging from healthcare, to government, to human services. In the past year, for example, more than 150 people helped with Leadership Lincoln's programming. 
Hale, Bretz and Uridil agree that the move into Nonprofit Hub has given Leadership Lincoln a larger sense of community and some added energy (I can certainly attest to the added energy; we had to pause the interview four or five times so we could finish our
laughing fits).
Leadership Lincoln is an organization built for passionate Lincolnites, run by passionate Lincolnites. They're doing work no one else in the community is doing, and for that we owe them our gratitude. 
If you want to learn more about Leadership Lincoln and its programs, visit leadershiplincoln.org, or stop by Nonprofit Hub at 211 N. 14th Street and say hello—they'll love it, I promise.