Easterseals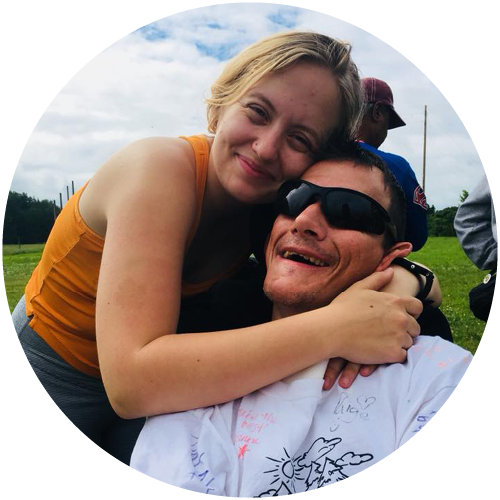 by Hannah Trull
For nearly a century, Easterseals has served people of all ages, backgrounds and ranges of disability. It's expanded its network to over 75 affiliates around the world, each of which adjust their work to meet their community's needs while uniting under common values and the tagline, "Taking on disability together." 
The Foundry has been lucky enough to provide a workspace for Easterseals' Lancaster County location since May 2015. It's one of the top three service areas in the state, serving as a pass-through for many of the organization's programs.
"At The Foundry, we can network with other nonprofits to find solutions, which makes our occupancy that much more intentional to make a difference and create change," Angie Howell, Vice President of Easterseals Nebraska, said. 
Every location aids six categories of people: children, young adults, adults, seniors, veterans and caregivers. The bulk of the action, though, lies within their workforce services, where they assist people with disabilities ages 18 to 64 with returning to work and navigating medical benefit issues.
Raina Gulbrandson, Community Work Incentives Coordinator, is responsible for this at the Lancaster County branch. 
"If someone calls the Social Security Administration directly, they may not get a full and complete answer that's individualized to their situation," she said. "Our goal isn't to maximize people's benefits, necessarily. Our goal is to make sure people are informed, so that they can make a choice based
on accurate information instead of hearsay."
She said a lot of people shy away from diving into the workforce again because they've heard horror stories of others losing their benefits or being taken off of disability—not because of the common misconception that they simply don't want to work.
"It's absolutely not true. Everyone would be amazed at how many disabled people do want to work," Gulbrandson said. "They don't want to stay home, they want to be out in the community. They want
to be contributing and using the skills they have."
In addition to Easterseals Nebraska's career and benefit services, they provide an educational outreach program to schools and employers, a low-interest finance program and—their most popular event—Easterseals Summer Camps, where kids and adults alike can gain a real overnight camp experience in a completely handicap-accessible setting. 
Whether employees are busy assisting adults transitioning into the workforce, children trying to gain social independence, seniors wanting to improve their quality of life or caregivers dedicating their time to assisting those in need, Easterseals' overall mission is the same: to help everyone reach their full potential and change the social stigma surrounding disabilities.
"We believe we can change the way the world defines and views disability," Howell said. "Together we can build a society where everyone is included, valued and encouraged to pursue a career and follow their dreams." 
Be sure to check out their Facebook page and website Easterseals.com/ne/.