Community Justice Center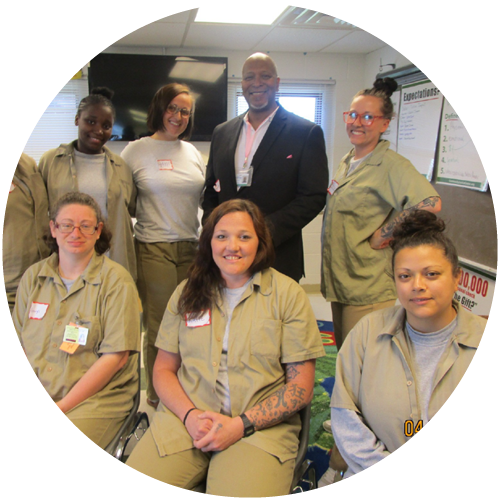 by Porscha Colville
When you flip through the morning paper or turn on the evening news, stories of crime are easy to come by. People are suffering from the effects of misdeeds whether it's a robbery gone wrong or a case of sexual assault. Those victims may be our family members, friends, neighbors, peers—anyone. No one is exempt from the scars that crime can inflict. For many, the repercussions of crime can have long-lasting, harmful impressions on victims, victims' families and even offenders.
James Jones and his colleagues at the Community Justice Center (CJC) identified a need in their community for victim relief and justice. It involved programs that bridge the gap between the three main stakeholders affected by crime: victims, offenders and the community.
Since CJC began their programs in 2001, they've been recognized as the leading practitioner and educator of restorative justice in the state of Nebraska. Their balanced approach aims to address the needs of crime victims, justice involved individuals (or offenders) and community members all at the same time.
In many cases, after an individual is imprisoned, they wait out their sentences and fail to understand the magnitude of their actions. That presents a huge shortfall that contributes to a shocking statistic: 7 out of ten people return to prison within three years of being released.
The Restorative Justice Intervention is an eight-hour course designed to hold those individuals more accountable for their actions and educate them on the impact of their crimes. They're given the opportunity to hear anonymous testimonies or "victim harm statements" that bring to light the gravity of the crimes they've committed. Many of these classes are taught by former offenders, and it's a peer-to peer-program, which helps current inmates to connect and be inspired by their teachers. To this day CJC has been successful in reaching over 8,000 offenders through their prison programs. The empathy classes are available in all prisons throughout the state of Nebraska and continue to register positive results.
For crime victims, CJC provides a multitude of resources. Through their website, victims have the opportunity to share experiences, express their feelings, frustrations, anger and pain. Too often victims and their families don't have a proper way to grieve and express themselves. According to Jones, CJC "Elevates crime victim voices so they can be heard." Through victim harm statements, those affected have an outlet to anonymously express and share how they've been harmed by crime. Their voices and experiences hold offenders accountable by letting them know the damage they caused.
As the organization grows, Jones hopes to see CJC programs expand to prisons nationwide. He hopes to serve other communities and make an impact on a national level, granting prisons access to their innovative resources. Jones wants to see more justice involved individuals trained in empathy classes. The vision continues to be one of growth and public knowledge on restorative justice approaches.
As they continue to pursue their mission, Jones says they still need the support and help of indirect victims and community members. "We need more voices of people in the community to share on our website how they've been impacted by crime in their communities." The more voices that are heard, the more justice involved individuals can learn from their actions.
Jones says the success of the Community Justice Center would not have been possible without the support of The Foundry.
"The Foundry has been a tremendous help. It's one of the most profound experiences working alongside other nonprofits; one of the most beautiful brainstorms to help facilitate and meet our mission. It's the support that we need."
Since 2001, the Community Justice Center has been providing effective treatment that produces outcomes that make our communities safer and stronger for us all. Thanks to James Jones and the CJC, justice involved individuals, crime victims and community members have all been given the resources to find healing and growth post crime. Their hard work has resulted in a safer community for us all and a world with more empathy.