Common Root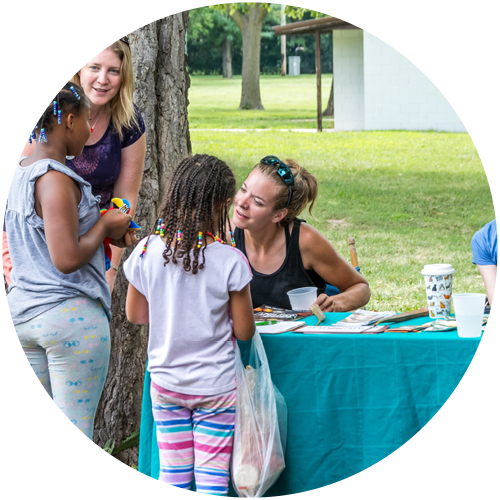 by Spencer Creal
If you turn on your TV, or open your laptop, or check your phone, it's easy to feel like everyone is butting heads. There's a lot more interrupting, a lot more contention and a lot more yelling. And it isn't just politics anymore. Disagreement has found its way into every facet of every discussion in America—even something as cut-and-dry as vaccinations has become a lexical battlefield.
It can be exhausting and more than a little frustrating to have argumentative conversations and interactions. Luckily, there are folks out there who are trying to focus on the things we share: values, beliefs, interests, characteristics. In fact, The Foundry's very own Common Root has this—mutual connection—at the center of its mission.
According to Lacey Losh, Common Root's volunteer coordinator, the organization is "dedicated to providing a welcoming, supportive community space with resources for the purpose of mutual inspiration, education and connection." They do this in a number of ways, including community-building events, movie screenings, support groups and more.
Common Root started was developed out of the LUNk House, a meeting place for progressive groups and local activists. After LUNk closed its doors in 2012, Common Root was established as its own stand-alone organization. In 2014, they officially received 501(c)(3) nonprofit status, but found themselves paying a lot for rental space. This past summer, they set up shop in The Foundry.
"We love the collaborative environment at The Foundry! [It] provides our nonprofit with the whole package of resources we require but couldn't afford when renting space on our own," Losh said.
Among Common Root's most important values is what Losh calls "free culture." 
"We believe in accessibility, and this includes making sure people have the ability to meet for community projects and social activities free of charge," she said.
On top of offering all of their programming and events free of charge, Common Root is also completely run by volunteers, and all of their meetings are open to the public. Their volunteer staff has positions and titles, but they operate with a non-hierarchical structure, ensuring that everyone's voice is equally heard.
Common Root wants to provide a safe space for people to talk and interact freely with each other. The events they host are determined by the interests, skills and availability of their volunteers. If you have a passion you share with others, see how you can get involved 
"We're an all-volunteer nonprofit. This really shows the heart and hard work individuals are willing to put into growing our mission and maintaining a consistently welcoming atmosphere," Losh said.
To find an upcoming event, or to learn more about how they're cultivating a community
for discussion and connection, visit CommonRoot.net.