Shawn Ryba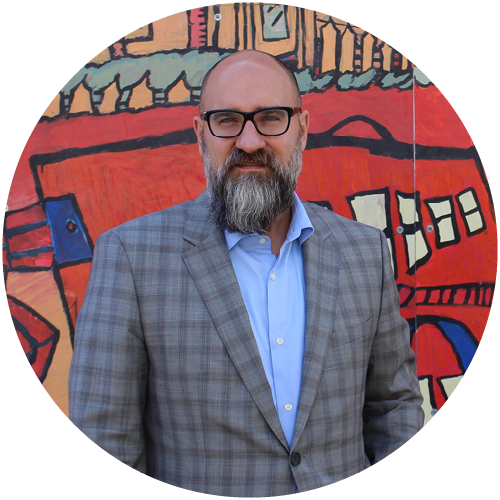 by Syndy Boyd
Shawn Ryba walked into The Foundry at 4 p.m. on a Monday. His schedule was packed tight, so we had to squeeze in a time to meet. I asked him if I could get him anything; he said a glass of water.
We went into a meeting room, water in hand, and sat down. I started simple: "Are you from Lincoln originally?" I asked.
"I'm originally from Columbus, Nebraska and I came here for college," he said. "I went to Omaha for graduate school and then got a job and came right back here. I can't get enough of the place. That was 15 years ago."
We talked about Lincoln for a while, including all the things he loves about it. The food, as it turns out, is one of those things.
"El Chaparro is the best Mexican food you'll ever have and it is in the neighborhood." he said.
When he says "the neighborhood," he's referring to the 500-acre area south of downtown Lincoln from 17th Street to 6th Street, and from A Street to L Street. But Shawn doesn't love the neighborhood for the Mexican food—that's just a perk.
"We have beautiful, mature trees," he said. "We have refugee and immigrant families that live there. It's a very diverse area with at least 25 different languages being spoken. When it comes down to it, we have a lot of assets and that's what I am hoping to expand on."
Back in February, Shawn was hired as the Executive Director of the South of Downtown Community Development Organization. Before that, he served as the Chief Operating Officer at NeighborWorks Lincoln. He also helped launch the Lincoln Policy Network, which unites neighborhood residents, business professionals, landlords and city representatives interested in implementing change in Lincoln's neighborhoods. Now, his main task is community development.
"When I talk about community development, I'm talking about helping residents build the social fabric of their neighborhoods," he said. "I want to build relationships and get people to meet each other, work with one another and just get out and know who you live by."
Shawn works with his team to go door-to-door getting to know the people that live in the neighborhood. "We need to look at what types of services are being provided and what ones are still needed," he said.
It was inspiring to see Shawn get so excited about the Lincoln community, but I had a tough question to ask him.
"How can you, a white male, walk into such a diverse neighborhood and expect to make a difference? Why should they care what you have to say?"
It took him by surprise, and he was quiet for a minute.
"I am honored and privileged to serve this area and to meet and work with the people that live there," he said, and paused for a moment.
"I also understand that this is going to be a huge challenge and require a lot of collaborating," he said. "It's forced me to deal with my own privilege. I don't necessarily represent the neighborhood. It's forcing me to think about my privileged space and my biases and how I grew up white, having every privilege you can possibly imagine," he said, before pausing again.
"How can I come in and add value?" he asked, more to himself than to me. "How do I use my space to improve the quality of life for the folks living there, being as empathetic and humane as possible?"
He took a drink of his water and leaned forward.
"I'm grappling a lot with my space," he said. "I am a white dude. I'm grappling with what that means and how I can best serve the community. So yes, it's forcing me personally and professionally to really get into an uncomfortable space and have those hard conversations about inequities, racism and discrimination. It's tough to have those conversations, but in order for us to move forward and come up with viable and sustainable solutions, we have to have them."
We both took a deep breath and I blinked back the tears that had formed. The interview had taken a heavy turn, but it was important. Nonetheless, I decided to lighten the mood a little.
"What has been your best day since you were hired on February 7th?" I asked.     
"Every day is the best day," he said. "Every day has been my favorite day because it's brought a new challenge. It's a new difficult conversation, it's meeting a new person, it's everything. It puts gasoline in my tank. But it's not about me. It's about listening and doing what we can for the community."
At this point, I'd taken up almost an hour of his time, but I had one final question.
"Why should people who live outside of the neighborhood care about what you're doing?"
"We're all Lincolnites, and we all live here," he said. "When one area is struggling, we're all struggling."