Pat Leach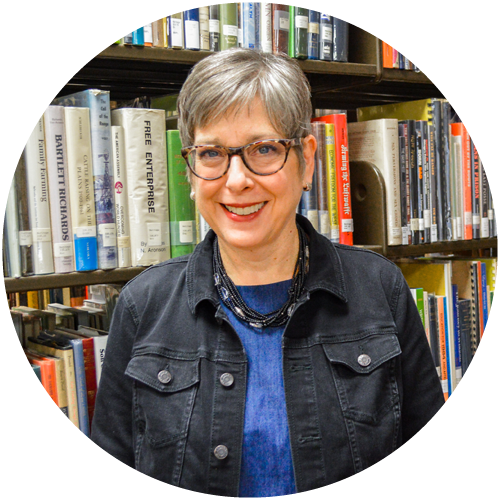 by Hannah Trull
If you think you're a bookworm, you should meet "Lincoln's Most Passionate Reader," Pat Leach. She's been working for the city's library system for over four decades, starting when she was a student at the University of Nebraska-Lincoln. Leach has stayed loyal to Lincoln's libraries ever since, and, in 2008, she was put in charge of them.
On top of being the director of all eight libraries in town, she advocates strongly for children's literacy and reads over 40 books per year—waking up at 5 a.m. on the weekends to do so, because at that hour there are no interruptions (except, she said, from her cats).
Leach attributes her love for reading to her late great-aunt Virginia and fourth grade teacher Mrs. Barrilleaux, but her passion has grown deeper throughout her career. To her, literacy is the "backbone" of a productive and happy life.
"Public libraries stand for the democratic ideals of universal education, access to information and community investment," she said. "Lincoln is an education town and the seat of state government; it's a city that demands a strong public library system."
And that's exactly what we have. Lincoln boasts a central library, also known as Bennett Martin Public Library, plus seven branch libraries and a bookmobile. The construction of the new Downtown Central Library is on the horizon, as well.
"What I love about them is that each has its own personality within its neighborhood," she said.
Each library has strong programs for promoting literacy in children, which is something Leach has strongly supported since she worked in the children's library as a college student.
She oversees the coordination of free community events for kids, like pumpkin scavenger hunts, rock painting, movie screenings and more. There's always a long list of fun, educational activities listed on their website. And although they don't all directly pertain to reading, the events help children learn something new and useful, even when they're disguised as pure fun. Plus, she said, this draws new people to the library, leading to more regular library-goers.
"I'm totally passionate about [child literacy]," Leach said. "Reading aloud to children 15 minutes a day is the most effective way to prepare them for success. In our culture, success in school leads to success in finding good and rewarding work. Plus, the profile of people who read throughout their lives shows correlation with other important civic activities, such as voting or volunteering."
And that's why, for Leach, little things like seeing a parent and child reading together in the picture book room as she leaves the library warm her heart and make her job so worthwhile. She said she's seen the positive impact of her work come together through millions of small moments like this over the years.
Currently, Leach is finding new ways to encourage and support parents to reach those 15 minutes of reading aloud per day, like with a public engagement campaign called "Dad Up and Read."
Along with smaller improvements being made to each of the seven branch libraries, plans for a brand new downtown library that will replace the existing Bennett Martin are underway, much to her excitement.
"We'll be seeking support for our project through a bond issue election, and by a campaign for private support through our hard working partners at the Foundation for Lincoln City Libraries," she said. "This will do wonders for the way the library serves the whole city, and especially the heavily populated core of Lincoln."

Until then, you can catch Leach reading her all-time favorite books, "A Lesson Before Dying" by Ernest Gaines, "Thinking Fast and Slow" by Daniel Kahneman or anything by short-story writer Alice Munro.