Megan Elliott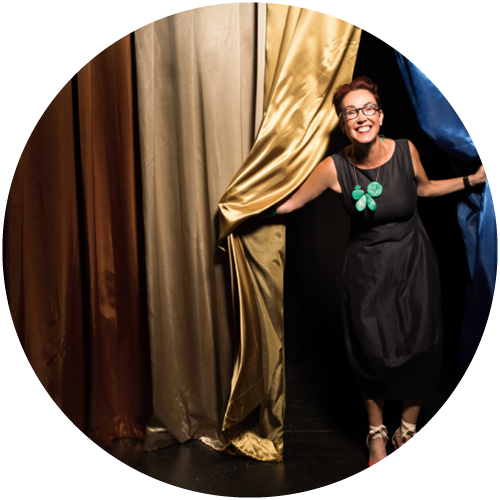 by Hana Muslic
Megan Elliott exudes energy, style and confidence. When I walked into her office above the University of Nebraska-Lincoln's Mary Riepma Ross Media Arts Center, I was both intimidated and excited to interview her, having heard wonderful things about the big impact she's already made in her short time here in Nebraska.
A small-town girl from "the bush" of Australia, Elliott has been making her mark on the world for years. And yes, I mean the whole world. Everywhere from the United Kingdom to Singapore and Greece to China, she's been working hard to explore different cultures and make sure they're fairly represented in media arts.
After graduating from the University of Canberra with a degree of applied science in Cultural Heritage Management, a major that focuses on the cultural preservation of Australian indigenous people, she went on to work as an official for actors' equity in independent performance. From there, she served as executive director for the Australian Writers' Guild.
"It was fun but a huge learning experience," she said of her time there. The leadership skills she learned in that role and the connections she made led her to form X Media Lab (XML) with Brendan Harkin in 2005. XML is a digital media think-tank and creative workshop that assists companies and people in getting their ideas successfully to market. XML is internationally acclaimed, with partners like the Sydney Film Festival, Beijing Film Festival, American Film Institute, the British Council and the Federal Office of Culture in Switzerland.
Last year, Elliott was recruited (or "headhunted" as she playfully calls it) by UNL to lead the Johnny Carson Center for Emerging Media Arts, a program that will focus on interdisciplinary learning—particularly for students interested in virtual production, film, design, technology and commerce. The center, which is slated to open in the fall of 2019, was made possible by a $20 million investment by the Johnny Carson Foundation.
The generous donation is an indicator that the university, and especially people in Lincoln, care deeply about the arts, Elliott said.
"I think I'm just impressed by what a welcoming and can-do attitude Lincoln has," she said. "It's unlike many other universities or communities because it's not siloed. There's a genuine want to service the community and it's inclusive across the board."
Elliott's goal for the Johnny Carson Center is to totally focus on making the program student- centric. This means recruiting its first cohort, searching for faculty and staff that fit the culture and creating syllabi that focus on helping students' ideas come to life.
"It takes a village," she said. "I absolutely love the opportunity to be working with such an extraordinary group of people to build something from the ground up that will have lasting impact on students' lives and on the economy and community of Lincoln."
Those behind the center's inception view it as a crucial part of an innovation pipeline. The dream is to graduate transformative, creative leaders and help them realize the companies of their dreams.
Elliott has been trying to get involved with the arts community in Lincoln since she came here just a few months ago. She's gone to First Fridays, attended TEDx events and spoken with people in several different departments at the university.
This has shown her what opportunities exist in Lincoln and how we can use them, better them and continue to make them accessible.
"When I arrived, I was very quickly brought into the community through participation," she said. "And that's been quite amazing. I think you can see that everyone genuinely wants the Carson Center to succeed."