Leirion Gaylor Baird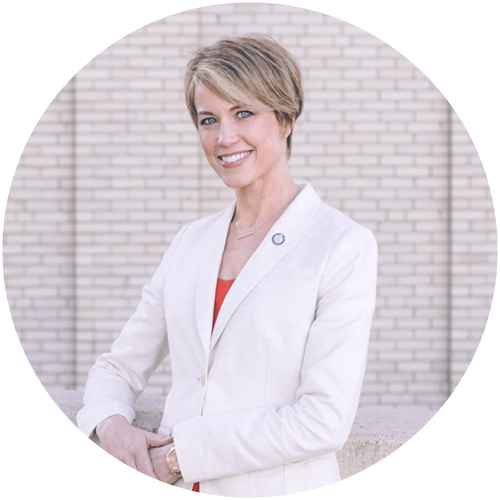 by Spencer Creal
As I waited for Leirion to arrive at The Foundry's downtown office I was, admittedly, a little nervous. I had heard so much about her and the work she's done for the Lincoln community, so it sort of felt like I was meeting a local celebrity (and I was, as it turns out; over half of The Foundry's members said hello to her before we even made it to the conference room). But, as soon as she stepped foot into our office, I was at ease. She has a way about her—like the way she carefully gathers her thoughts before answering a question, or how she wants to know as much about you as you do about her—that creates a mutual calmness that's palpable.
Before I started asking about Leirion's work in the nonprofit world, I wanted to get a sense of who exactly I was talking to. So I asked about her upbringing, her family, her work background, and I learned that she's from the Portland area, is happily married with three children and has previously worked as a consultant, development coordinator and planning commissioner. Of course, she conveniently left out the fact that she has degrees from Yale and Oxford.
It's clear just from looking online or at her city council campaign that Leirion cares deeply for her family. But what I learned from talking with her is that family is her absolute bedrock. As a child of public school teachers, Leirion was instilled with a sense of civic duty and public service at a young age. Now as a mother of three, she is instilling the same values into her children.
"When I decide how I'm going to spend my time and energy," she said, "I think to myself, 'Will my kids be able to learn something from this? Will they connect the dots?'"
A couple of times per year, Leirion's family sits down and decides which organizations they are going to serve and to which charities they are going to donate.
"The kids are very much a part of that conversation," she said. "Making it a family affair helps cultivate that sense of giving that's so important."
Leirion's experiences, both in the public and private sectors, have taught her that education is the most important investment a community can make.
"Increasing the accessibility and affordability of education is the best way to fight poverty," she said. "Luckily for us, a lot of people in Lincoln are working on that every day."
While she has always been very service-minded, Leirion said her life took a major turn in college when she lost several of her friends to a series of tragedies.
"Their deaths gave me an incredible sense of urgency," she said. "How can we do the most good during the short time we're on this earth?"
She's been trying to answer that question ever since, and, if you ask me, she's doing a pretty good job. Since moving to Lincoln, Leirion has been a co-chair of the Friendship Home's Keys of Hope campaign and on the boards of Family Service, the Friends of Pioneers Park Nature Center and the Friends of the Lincoln Children's Museum. She currently serves on the Lincoln Community Foundation Board of Directors, the Lincoln Public Schools Superintendent's Community Advisory Council and the University of Nebraska President's Advisory Council. It's a lot, I know. And of course, this is all on top of being a city councilwoman who helped formulate a comprehensive plan for Lincoln's growth over the next three decades.
Not surprisingly, Leirion had no shortage of good things to say about Lincoln.
"It just feels like home. It's such a great place to raise a family. I know everyone says that, but it's absolutely true."
She went on to tell an amazing story which, she believes, perfectly captures the essence of the Lincoln community.
"Soon after we moved into our house, a neighbor came over with a bag of scones. They were delicious, and my children adored them. A few days later, in the middle of a snow storm, we get a knock at the door. It's the same neighbor with another bag of scones."
Leirion then just sort of stared at me, mouth slightly ajar, as if to say, 'Can you believe that?!'
When asked about Lincoln's nonprofit community, Leirion used the words "vibrant" and "committed."
"Just look at Give to Lincoln Day," she said. "There are so many worthwhile causes, it's almost impossible to pick." She said the Lincoln nonprofit sector speaks to the community's overall values. "So many people want to make sure everyone has access to The Good Life."